SparxSystems Enterprise Architect modelling tool version of SysML 1.4 Reference Cards available in English and French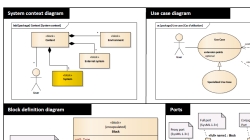 A post by guest author Guillaume Finance:
SysML 1.4 reference cards are now available with diagrams defined with Enterprise Architect modelling tool from Sparx Systems. This alternative version, available in English and French, has been shared by Guillaume Finance.
You can download the reference cards from the download section.
Note: SysML is available in the Systems Engineering and Ultimate editions of Sparx Systems Enterprise Architect.